Leith-Hay Family of Leith Hall
Welcome to the Leith-Hay family site. These pages are intended for all those associated with the name Leith and particularly those descendants from William Leith of Barns, Provost of Aberdeen in the mid to late 1300's and ancestor of the main line of the ancient family of Leith Hall in Kennethmont Aberdeenshire, Scotland.
The site is also a source on the various lines of the earlier Leith family and the purpose is to show the history and in particular the family's origins and traditions in Scotland. It aims to provide as much information about the past generations  who lived there from the Lairds and their families to more distinguished and famous military men and the lives of various women whose lives have been recorded as well as the every day descendants of the family into to early 20th Century. Contributions from anyone with a link to the Hall are more than welcome and the site is meant to be inclusive of all with a link to the Hall whether they are related to the family or not. Above all the purpose of this site is to provide a complete picture of this Scot's family from its rise and fall with a focus on the individuals who shaped its history.
The site is also a source on genealogy and tartan and heraldry and will hopefully facilitate the communication and awareness for descendants of the family worldwide of various different lines that branched out and have a connection. This site will also be frequently under construction and will change in appearance. Any information which could be included into the family archive is welcome as well as suggestions to improve the site.
The Tartan Register
The Tartan Register dates the Hay and Leith Tartan to 1/1/1819 designed y Wilsons of Bannockburn. The 1906 image from the Tartan's of the Clan and Septs of Scotland shows the Hay and Leith modern version.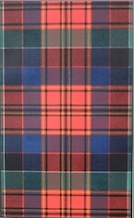 For contact please email info@leith-hay.org
Visit Leith Hall an NTS Scotland property