Leith Hall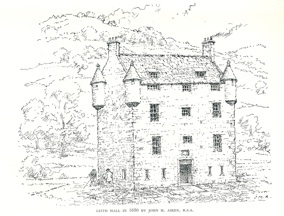 Leith Hall tower house built around 1650
The original tower house, which today forms a part of the north wing was built by James Leith of New Leslie around 1650. It is depicted on page 8 of Trustie to the End by John M Aiken R.S.A. The original house was rectangular and consisted of three storeys, with an attic on top.  The builders Arms are on the original entrance door, impaled  with those of his wife. The Hall is said to stand on top of an older structure named Peil Castle. A history of the development of the Hall can be seen on the National Trust booklet on the Hall on page 13 showing the Hall's evolution and different additions made by James Leith's descendants all the way to the beginning of the 20th Century.
---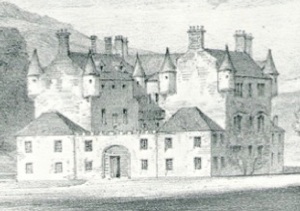 Leith Hall between 1797 to 1868
The tower house underwent major changes from the 1650's from James Leith's original home. A courtyarded  design, which evolved into a larger building between John's I to III, began to take shape.  Sir Andrew's drawing in the Castellated Architecture of Aberdeenshire provides the best image of this time from around 1800. His father Gen Alexander Leith-Hay enlarged the house and the south wing was designed to match the north wing with corbell turrents as per the original tower house. The east wing grew from two floors to three and as in the the image on the left the entrance also received battlements.  The two storey pavilions beside the entrance and visible in the drawing were added during the time of Alexander's father John III.
---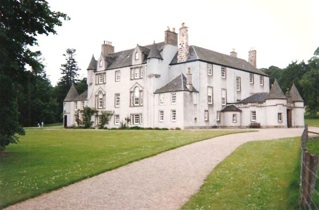 Leith Hall from 1868 to modern times
The major change by Colonel Alexander was a billiard room on top of the entrance and battlements. His Australian nephew added the drum turrents and oak panelled entrance visible on the east entry on the right as well as turning the billiard room into a music room. The Hall was presented to the National Trust Scotland under the country house scheme by Henrietta Leith-Hay, the widow of Charles Edward Norman Leith-Hay of Rannes and Leith Hall in the mid 1940's upon the end of World War II and after her husband and son had passed away in 1939. It is managed by the National Trust and still presents a picture of the lives of one family, the Leith's and later Leith-Hays, who lived at the Hall for more than 300 years from it's foundations in the 1650's. The Hall was re-opened in   2013 and is open from April to late autumn. The Gardens can also be visited year round.