Charles Arthur O'Neill Leith Hay – A life
November 1, 2015
The Gallery for Charles Arthur O'Neill Leith-Hay provides a window into the life of the last Leith Hall Laird between 8th May 1918 to his passing on a Saturday afternoon on the 16th Sep 1939.  Charles' stewardship of the Estate was to be the shortest one out of all the Lairds from the 1650's onwards. His brief four months as the head of the family meant that he did not any in any capacity in his lifetime make an impact on a local level as the events of the time on the world and European stage had overtaken much of the nations focus at the time of Charles' accidental passing in September 1939. His young life, however, as can be seen by the photographic record of his life was deeply rooted at the family home and the local county. His images primarily taken by most likely his mother provide insight into his development into a young man and some of the events that would have shaped his youth prior to his premature passing.
Charles' accident occurring in the weeks after the declaration of war on Germany on the 3rd of September 1939  meant that his funeral preparations were more hastily made than those of his father some four months before in May 1939.  Had Charles not passed on the 16th of September his military service with the 91st Battery, 12 Field Regiment may have taken him to Malta in 1941 as defensive artillery for the garrison there and later to North Africa in 1943 and most likely to Italy in 1944, when his regiment would have been transformed into the 17th Medium Regiment for the Italian campaign.
Letters of recommendation and of condolence from Charles' commanding officers to his mother can be found here Chas letters of condolence to Henrietta L-H
Images courtesy of the National Trust for Scotland (NTS – Leith Hall Garden and Estate)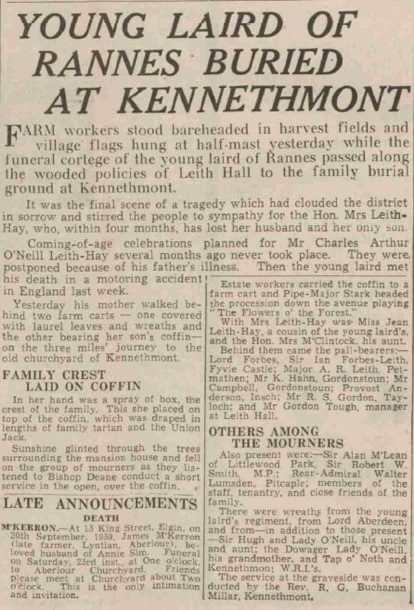 Press and Journal, Mon September 18, 1939 p.8 and the other is of his funeral notice Sep 21, 1939 from the same paper on p.3 from 74 years ago.