Norman Leith Hay
May 26, 2013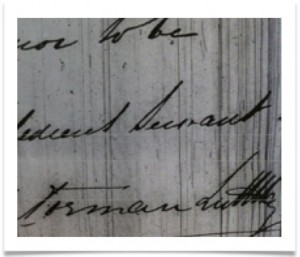 If the family M.S.C and J.C.M  in Warrington Cheshire have any connection to Norman Leith Hay, the 4th son of Andrew Leith Hay, please get in contact.
The above shows his signature on the 24th Jan 1852 in Maryborough, then still in NSW. It is from a letter signed by him. It is as close to any image that survives of him.
Other than a posthumous testament in Scotland as per Scotland's people and the happenings of 1857 concerning the Sea Belle including eye witness accounts no further information is held. He arrived here in 1848 and no genealogical details past his death are recorded. No detail on marriage or any children is on hand.