The Scot's Magazine June 1984 – credit and thank you to Sir Edward Peck
June 28, 2013
Link –> The Guardian obituary of Sir Edward
Edward peck.pdf and Copyright the Guardian Ed Douglas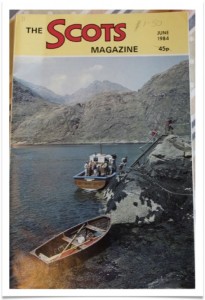 Antipodean Rannes
Easter Torrans, Tomintoul, Ballindalloch AB3 9HJ.
Dear Sir, — "where does the Don run into the Dee?" Any knowledgeable Queenslander would answer; " At Rannes, of course!" This unusual geographical fact will come as a surprise to those of us who live in North-east Scotland. The link with North-east Australia is the Leith-Hay family.
At a reunion in Aberdeen in 1838, ten North-east men, including Patrick and George Leslie from Warthill, and two of the youngers son of Sir Andrew Leith-Hay of Leith Hall, decided to emigrate to Australia. They first settled in the Darling Downs area, but after 12 years or so, James and Norman Leith-Hay sold out to the Leslies and moved north, the the very edge of the explored country, where they stocked a sheep farm in the fertile alley of the Dawson River south-west of where the town of Rockhampton now stands.
They named the place Rannes after the home near Buckie of ther great-great-uncle Andrew Hay, exiled for 18 years after 1745, who retrieved the fortunes of the Leith's by his benefaction to the grandfather.
They names Don and Dee the two streams that join together close by Rannes, and run down into the Dawson River. After the Dawson's confluence with the MacKenzie, the joint river is known as the Fitroy which flows into the Pacific at Keppel Bay on the north-east coast of Queensland.
A plaque to Rannes reads: "To commemmorate the first settlement in the Dawson Valley where Norman and James, sons of Col. Sir Andrew Leith -Hay of Leith Hall, Aberdeenshire, Scotland, arrived in Queensland in 1840 and came North from Eidsvold to Rannes in March 1853 with 26000 sheep."
"In 1856, Mrs Hay, daughter of Colonel C. G Gray came to Rannes being the first white woman living so far north in Australia."
Have any of your readers further information about the Leith-Hay's of Queensland or their successors at Rannes?
Sir Edward Peck, G.C.M.G.