Aberdeenshire general interest images and photos from 1908-1909 from Violet Gibson
July 16, 2013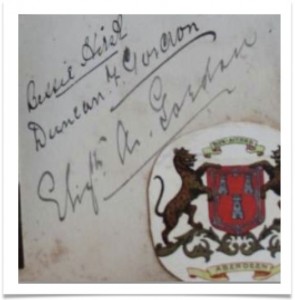 This album and part two was kept by Leith Isley and comes courtesy of Meg L, Violet's daughter and granddaughter and family.
They are extracts of a travel album and show sights in Aberdeenshire and the city itself some 105 years ago. Some are related to the Hall and family and its old estate and its surrounds while others more to the major attractions in the county or simply every day town or village life. Other estates either related or not to the family are also shown.
A newspaper archive of articles will be added soon in the library section to provide a record of the times not covered in the accounts on the family.
Most of these to 1940 are now finally out of copyright since 70 years have passed.