Leith-Ross of Arnage
May 28, 2017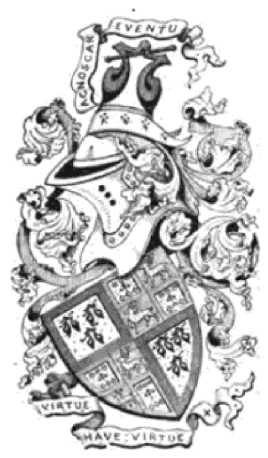 This is a brief account on the Leith-Ross family that descended from the Leith's of Freefield and Glenkindie. Further information is available in more detail on the North American links of the family.
John Ross, of Arnage, b. 13 March 1707, d 3 May 1789, m. 6 June 1728, Elizabeth, daughter of Turner of Turnerhall, and his wife, Margaret, daughter of John Roes of Rose-Hill, a cadet of the Kilravock family, and had issue, besides four sons and five daughter, who all died young and unmarried, two daughters. Co-heris of Arnage, viz:
(1) Christina, b 1732, d 1803. unmarried.
(2) Martha, b. 1735, d 7 October 1777, married 7 November 1775 to Alexander Leith of Freefield and Glenkindie and had issue and only child,
John Ross Leith, afterwards John Leith-Ross, of Arnage, b 29 September, 1777, d 1839, a  W. S. in Ediburgh before he succeeded to Arnage in 1803, when assumed his mother's surname and was by Patent of Arms authorised to bear his mother's arms quartered with the arms of Leith of Freefield; was Deputy Lieutenant and Magistrate Co. Aberdeen; m 7 January 1807, as above, Elizabeth Young, co-heiress of Bourtie, and had issue, viz.
Armorial bearings – He bears for Arms: Quarterly 1 and 4. or three water-bougets sable, a bordure of the second; 2 and 3 quarterly, i, and iiii. or, a cross crosslet fitchee sable, between three crescents in chief and as many fusils in base barways gules, all within a bordure azure (for Leith of Freefield); ii and iii, azure, a stag trippant or, attired and unguled gules (for Strachan of Glenkindie). Upon the escuthcheon is place a helmet befitting his degree, with a mantling gules, doubled argent ; and for his Crest, on a cap of mantenancea water bougets sable.
Mottoes (above the crest) – ;Agnoscar eventu;" (below the shield) "Virtue have virtue."
sons:
(1) John Leith-Ross of Arnage
John Leith-Ross, Equire, Justice of the Peace. Born 1809, being the eldest son of the late John Leith-Ross. Esquire of Arnage, Writer to the Signet, Deputy-Lieutenant, by his wife Elizabeth, daughter of William young, of Theoddocksley, Provost of Aberdeen, co-heir of her maternal uncle, Alexander Anderson of Bourtie, in the county of Aberdeen.
(2) Alexander, b 1811, d.1863 unmarried, wine merchant in London, England.
(3) William M.D., b 1812, d. September 1834, unmarried.
(4) George, d, young.
(5) James, of whom below, A.
(6) (Rev.) Robert, b 1819, minister of Cruden Co. Aberdeen.
(7) Arthur, of whom below, B.
daughters:
(1) Mary, b 1808, d 1835, married to William Allardycem wine merchant in Aberdeen and had issue.
(2) Christina-Martha, b. 1814, d. 1878, married to Alexander Johnston, W.S.
(3) Elizabeth, b.1820, married to David Souter Robertson, of Law-head D.L and J.P. Co. Lanark and had issue.
(4) Jane b.1822.
(5) Margaret, b.1823, married to George A Thomson of London and has issue.
John Leith-Ross born 1809 had following issue:
Married firstly. July 25, 1844, Nicola, daughter of William Arbuthnot of Dens ; and by her (who died January 28, 1871) has Issue –
(1) John Leith-Ross, Esquire, Lieutenant-Colonel Commanding and Batallion Scottish Borders, born April 15, 1845 (married October 1878, Janet Forbes, daughter of William Lamond of Stranduff,
(2) Frederick William Arbuthnot Leith-Ross, Gentleman, born September 1847 [married].
(3) Harry Leith-Ross, Gentleman, Royal Navy, born December 1848 ;
(4) Charles Cuming Leith-Ross, Gentleman, died 1863
(5) Herbert Clive Leith-Ross, Gentleman, died 1861
(6) Willoughby Louis Thullier Leith-Ross, Gentleman, born 1851
(7) William Harry Hay Leith-Ross, Gentleman
Nicola Ross [married, 1878, Alfred Campbell Mackenzie]; and Eleanor Euphemia Gordon, died 1869.
He married secondly, November 18, 1878, Jane Catherine Pirie, daughter of James Pirie ; and has by her, Jane Catherine,
Seat – Arnage Castle Ellon
And interesting article on John Leith Ross' (born 1845) son  William Leith-Ross' career in the army can be found at the below link. He was born in Meerut, India in 1884.
http://ww1.nam.ac.uk/stories/captain-william-leith-ross/#.Wz9aORIzbm0
https://www.scottishfield.co.uk/culture/whatson/marking-a-scots-centenary-of-bravery-in-world-war-i/
Information on Frederick and Harry Leith-Ross (sons of Frederick William Arbuthnot Leith-Ross) can be found on Wikipedia
https://en.wikipedia.org/wiki/Frederick_Leith-Ross
https://en.wikipedia.org/wiki/Harry_Leith-Ross
The Leith-Ross family has descendants in the USA and Canada from the earlier family who migrated there.
The last direct family member in the male line passed in 2012 at 100 years.
"Hugh Frederick (19th December 1912). Only son of the late Sir Frederick Leith-Ross and last of the direct Leith-Ross line of Arnage, Aberdeenshire, died in his 100th year 21st September 2012 at St Mary's Convent, Burlington Lane, Chiswick, London W4 2QE where he was well cared for during the last 7 years. Beloved father of Carol and Felicity and most loving grandfather, great grandfather and great great grandfather..—Thanksgiving Service at St Mary's, Monday 8th October at 3 p.m. followed by tea. All enquiries 0208 788 9577. Family flowers only, but donations, if desired, to St Mary's."[1]
[1] http://announcements.telegraph.co.uk/deaths/154532/leith-ross