Portraits – PCF images and old literature on the Hall and family
August 24, 2013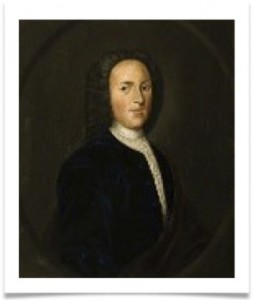 Some of the old images of the family members and faces at the Hall in the past appear to be lacking names and this is also the case for any published literature of the past from the 1970's onwards. The PCF images displayed on the www also omit names for numerous portraits and dates of lesser known members related to the family.
I am unsure if any recent naming has ever been attempted and therefore thought the following back in January 2013. As not much information has been forthcoming I would note this here.
All these images are held by the National Trust Scotland Leith Hall Gardens and Estate and therefore credited to the Hall and family from where they came.
Firstly, the oval portraits at the Hall prove a particular interest. The image above in the title displays a portrait of a gentleman.  This is a portrait of Alexander Steuart of Auchlunkart, father of Harriot, Steuart, wife of John Leith IV.
This matches the miniature at the Hall of Alexander and his hence a painting of Harriot's father and one of the last of the Auchlunkart Stuarts. Her father was 7th of Tanachie and Auchlunkart. Harriot, sold her estate of Auchlunkart in 1771 to I believe her uncle.
In past as I speculated that the facial features and particularly the nose were very close to the portrait of John Leith II, I though that this may be a portrait of John II's younger brother George Leith of Blackhall. George was the monetary heir to his mother, Janet Ogilvie, who left him comparatively well off compared to his other siblings. Some details of a family quarrel, I believe survives in the Information for George Leith of Blackhall, and George Cruikshanks late servant to the lady Leith Hall, with concourse of his Majesty's Advocate, against Arthur Gordon of Wardhouse, James Gordon of Glastirum (Mary Hay's 2nd husband after John Leith II's death) and Laurence Leith in New Flinders, pannels, February 24, 1744.
In the end upon George's death, his estate of Blackhall was left to his grand nephew John Leith IV of Leith Hall, who used this inheritance to purchase the parish of Insch in his young age. The will survives and due to the sale of Blackhall and also its moveable property from that estate I surmised that any portrait of George would have ended up at the Hall.
Two images are also attributed to Mary Hay of Rannas, the daughter of Charles Hay of Rannas, and wife of John Leith II, who passed in 1736. The first image being the matching one in size to John Leith II's portrait and therefore an image of Mary.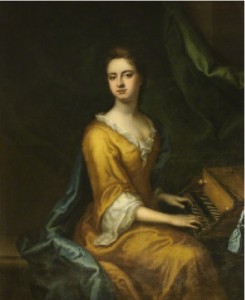 The second image in an oval portrait has the caption of Mary Hay of Rannas wife of John Leith and as past literature on it is confusing, I would think the link to Mary would actually link to her mother Helen Fraser, the wife of Charles Hay of Rannas and mother to both Mary Hay and Andrew Hay of Rannas. The artist in question is listed as William Mosman, noted for his Jacobite portraits and active in Aberdeenshire at the time. Various portraits in the oval style created by him are available for viewing  and notably
Bonnie Prince Charlie.
As the Hays of Rannas were notable Jacobites and more so than the Leith's of Leith Hall, I would conclude that this may be Helen Fraser.
As the Scot's Magazine and the family papers reported the house at Rannas burning down in 1758, this image may also be a re-creation of perhaps a more youthful image of Helen that may have been lost in the fire, since many moveable effects were destroyed at the time despite some being saved. The dress from the earlier Mary Hay portrait above may also have been copied or the image used as some kind model to paint a younger Helen Fraser. I doubt it would be a duplicate of Mary, however, since this would not make sense. On sale of Rannas in 1789 on Andrew Hay's passing, I would also place weight on the portraits of Rannas being taken to Leith Hall as part of any moveable estate of value. The fact that Andrew Hay's own portrait of the time hangs at the Hall would support this.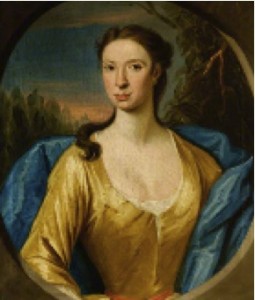 The oval portrait of a man in armour below has also been linked to the Leith Hall Lairds. However, the cuirassed image portrays a more military image that one would expect for a person with some kind of military past. As the painting is attributed to Godfrey Kneller (1646-1723) I would actually surmise that the image is of a young Charles Hay of Rannas (1688-1751) He was a jacobite and took part in the 1715 uprising owing to his link to the Duke of Gordon. He was not attainted and and allowed to return to his family after a short imprisonment.
The Leith Hall Laird John I had no military links at this time as per the family record. As an image is also attributed to John Leith I, I would think this oval portrait would rather link to the Hays of Rannas. Something valuable that was perhaps saved from the home and again ending up at the Hall once Rannas was sold.I also acknowledge there are some similarities between the below image and the John Leith I portrait. Perhaps notably the dimple chin. However, as the Mary Hay portrait also displays this feature and other facial similarities I would place more weight on these features supporting this being Charles Hay of Rannas. Especially the dimple or cleft chin being an inherited trait in humans where the dominant gene would continue this down the line.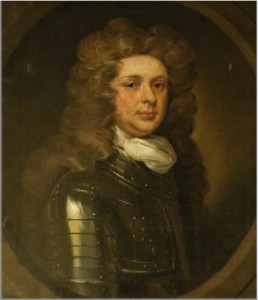 On a final note I would also point out that another image may relate to Jean Hay of Rannas. Andrew Hay's sister. Again titled a portrait of a lady and in the
oval style and dated to 1780.
Jean outlived her brother by a few years. With Helen, she was the second person who was close to Andrew Hay. She corresponded with her brother during his exile and lived with her mother Helen her whole life until her passing and later stayed with Andrew and would most likely have had her own portrait. Perhaps this maybe it.
I noted also Andrew Hay's portrait having a similar imbalance of the shoulders. Andrew of course suffering quite badly from arthritis. His exile wasn't an easy time by any means. The shrinking Jacobite circles clearly outlining his troubles a well as the issue with his height. in his youth he was 2 metres tall and and imposing sight marching into Manchester but, judging from his portrait I would also perhaps conclude his arthritis in later life and great height would have been hampered further by a scoliosis. I suspect Jean Hay might have been quite tall herself. I do not have any literature on why she also never married or if she ever had a suitor. Perhaps she was also very tall for her time.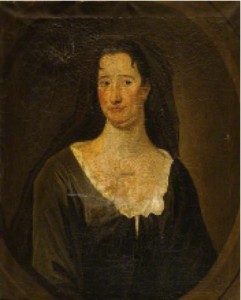 (All images held by N.T Scotland)