Charles Edward Norman Leith-Hay and Louisa Henrietta Valdivia O'Neill Leith-Hay
September 26, 2013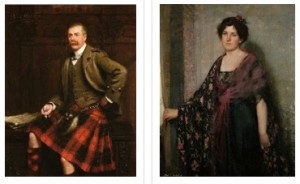 These portraits are at the Hall and held by the N.T.S.
Uncle Charlie was born on the 9th of October in Ipswich Queensland, Australia to his parents James L-H and Maria Catherine Gray. (QLD Reg Birth 1858/1299)
The chapter on his life in the1958 family book describes his life best and as this was penned by his widow it will also be left unchanged. Charlie's younger days in Australia were spent at Ipswich and Rockhampton with his siblings and his schooling was done at the Ipswich Grammar School (student number 183) enrolled from 1870 to 1875. His love for acting can be seen in the local record providing details on his participation in school plays and later elocution classes at Ipswich. The Sydney Morning Herald of Thurs 20th Feb 1879 also having him dressed in the role of Thaddeus a noble Polish fugitive exiled in Austria from the play The Bohemian Girl for the Mayor's Ball.
A brieft section on Charlie is available at this link 
This focuses on his obituary and earlier articles on his life gave small snippets of information on his succession to his uncle Alexander Sebastian and  to his 1907 marriage and honeymoon as well as every day local events that shaped his life.
The chapter on his life in the family book gives an insight from the person closest to him.  Not much is available on his younger life in Australia to his early 20's and the surviving evidence is only fragmentary in the absence of a diary. Charles and his oldest sister Mary Hirst departed via Melbourne (Hobson's Bay) to the United Kingdom on the 23rd March 1880 on the Somersetshire s.s 2342 tons. They had both previously  left from Queensland and Rockhampton on the 14th March 1880 aboard the Kellawarra 784 tons to Sydney via ports, which ended their time in Queensland and Australia.