V.L.A Phipps and Marie Elaine Elliott
September 26, 2013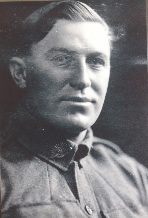 Vivian Louis Augustus Phipps may have had a name with a certain aristocratic ring to it, but this would only perhaps allude to something in his past or the generations before him. Farve as he was known to the family was born on August 13, 1884 at the Hollow, Beaudesert to Norma Caroline Georgina Leith Hay and Henry George Russell Phipps and baptised at Brisbane at St John's church on the 25th Sep 1884, some two and a half months prior to the family's departure from Australia for their four year journey to Europe.   The record on him notes a person who in later life never mentioned anything of his background to his workmates or those outside his family. He lived a life mostly devoted to his family of four children and later numerous grandchildren. His daughter refers to him as a dear man who was kind hearted and never did wrong to anyone while one of his grandsons says the following "he was a gentle, special man and we were very close, I loved to listen to his stories over and over, and he enjoyed telling them." In his words he wanted his family to be a normal Australian family, which is what it was and is.
As with every person there are moments in our lives that shape who we become or at least leave a profound impact on one's life. Vivian's great grandfather Andrew Leith-Hay's life was forever altered by the war at the turn of the 1800's against Napoleon. The events in Spain which are so meticulously described in his Narrative providing memories that had provided a deep impression and were etched in his mind for life. Similarly perhaps it could be said that the Great War a century later perhaps provided such images for Vivian.
Mapping our ANZAC's provides the official enlistment details on both Vivian and his older brother Russell.
http://discoveringanzacs.naa.gov.au/browse/person/280300#$story-2073
http://discoveringanzacs.naa.gov.au/browse/person/280298
On the site details on Charles Edward Norman Leith-Hay's two older Aussie nephews from his sister Norma C G Leith Hay can be found below and on the section on his brother.
Vivian's school record is at the Brisbane Grammar School and the General Register Vol I Pg 219 would display his details and enrolment from 16.5 years onwards. His school career was described as 'Obedient & straightforward, but slow at his work.' His sporting achievements at school primarily focussed on football, which he played in the school team in 1903.
The Light Horse photos from Palestine from 95 years back give some insight into the person. As with all photos these have captured a snapshot in time and also now many years from the event help to tell his life story by filling in the gaps. The sight of the walls of Jerusalem and the old city itself making an impression. The Light Horse with their plumed hats slowly making their way up the Mount of Olives with the Dome of the Rock on the Temple Mount in the background highlighting the image of one of the most important places for Christendom, Judaism and Islam. The photos of the ANZAC's around Palestine from Mount Temptation to Bethlehem and Jerusalem and various other sites perhaps showing that in the midst of a war these places, which one would only have  read about in a book perhaps had some significance for them to be photographed at  a time when film had to be used sparingly.
Some other family photos are related below.
The above image detailed 1919 was taken at the end of the war and the photo of his wife is prior to their marriage in 1921. Mr Phipps's obituary in the paper of the time in 1971 read as per below and was completed by his oldest child Mrs Hunter.
MR PHIPPS WAS A LINK WITH PAST
A link with the early days in the history of Queensland was severed with the death on October 17 of Mr Vivian Louis Augustus Phipps of 998 Ipswich Road, Moorooka, at the age of 87 years.
Mr Phipps was born at "the Hollow" Beaudesert on13 August 1884 as the younger son of the late Lord and Lady Henry Phipps, later of "Te Whanga." Beaudesert (Gleneagle) and a grandson of the Marquis of Normanby, Governor of Queensland and Victoria (as well as New Zealand)
Educated at Veresdale State School, Baxendale's School for boys at Toowoomba and finally the Brisbane Grammar School. He became a jackaroo on a sheep property in Blackall district. He was a keen sportsman and his chief interests were fishing, tennis, cricket and shooting. Many other  relatives still live in the Beaudesert district.
He joined the 2nd Light Horse, A.A.M.C., and saw service in the First World War in the Jordan Valley, Palestine and Egypt. After the war, before returning to Australia he visited his uncle in the ancestral home. "Mulgrave Castle," Whitby, England.
Mr Phipps married Elaine Elliott, a granddaughter of Judge Blakeney of the Supreme Court of Queensland, and settled on farmland at Amberley. At the outbreak of World War II, part of this property became the Amberley aerodrome and he came to Brisbane where he worked in the munitions factory and after the war continued to work for the Government as Commonwealth Peace Officer attached to the RAAF until his retirement.
He is survived by his widow, two sons. Messers. Blakeney and Owen Phipps, two daughters, Mrs. J. F. Hunter and Mrs. B. Valttila, 15 grand children and 29 great grandchildren.
Brisbane 1971, p 3