Charles Arthur O'Neill Leith-Hay
October 8, 2013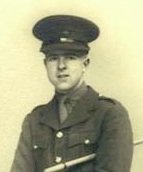 The Last Laird of Rannes and Leith Hall and male line representer of the Leith-Hay family's life was also penned down by his mother Henrietta in the 1957 book on the main line as was his father's account and will be left untouched.
The family book passed down listing the chiefs of the Leith and later Leith-Hay family from the 14th Century onwards ends in the words "So came to an end the main line of the ancient family of Leith Hall. It seemed like a bright light on the horizon being extinguished  which never could be lit again." To a grieving mother the loss of an only son and child would have been something that one would never fully make a recovery from despite the passing of time. The Leith Hall family's demise in 1939 was, however, incorrect.
A section on Charles, 2nd Lieut. R. A., b. 1918, died 1939 is accessible here.
This will only focus on the newspaper cuttings of the time.
A good source on Charles is also credited to the work by J Grant and sourced at:
http://www.kinnethmont.co.uk/1939-1945_files/chas-leith-hay.htm