Primary Source – The Baronage of Scotland
October 20, 2013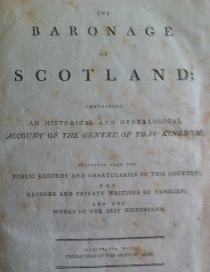 The baronage of Scotland based on Sir Robert Douglas of Glenbervie, 6th Bt. (1694-1770) 1764 work and published in Edinburgh posthumously provides of good source for primary source material on the family to the 1350's.
This cover image is a from a photo of the 1798 work, which is presently held by a family member of an original copy passed on to Florence Leith-Hay and her husband by his family upon their Queensland marriage in 1891.
In addition to the chartulary and public records on the main family it also provides a source on the cadet lines of the time to the mid 1760's which are listed. A few of these also having descendant's to the present day in addition to the Leith-Hay or Forbes-Leith families descendants of the present day.
A link to the copy can be accessed baronage of scotland.
A full copy is accessible also at this link.