Hays of Rannes and Lenplum
January 5, 2015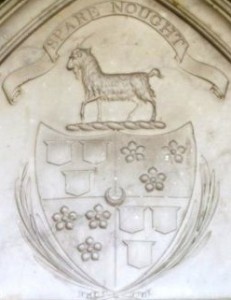 The text for the Hays of Rannes and Lenplum comes from the Appendix of the 1937 volume – A Jacobite Exile by Henrietta and Alistair Tayler with additions from the Heraldry Society work completing parts of the genealogy.

The book contains a useful history on the family and also an interesting insight into the attitude and word view of Jean Hay, Andrew's Hay's younger sister from the time upon being presented information on her family genealogy.

Andrew Hay was buried at Rannes Aisle Ruthven Kirk Yard, Buckie, Moray (erected about 1612)  of the old church of Rathaven, which was demolished in 1794, but the aisle remains, containing a large marble slab and Memorial from 1789 :

"To the memory of the Hays of Rannes and Lenplum"

1421. Sir William Hay of Locharat, Ancestor of the noble family of Tweeddale.

1472. Sir William Hay m. Alicia, daughter of Sir William Hay of Errol.

Their children were ;

1. Sir Edmund Hay of Lenplum and Morum, m, Margaret Kerr 

Their children were ;

1, Donald Hay of Lenplum, m Helen Cockburn, daughter of Cockburn of Newhall

Their children were ;

1520.1 Edmund Hary of Lenplum2. George Hay of Rannes3. William Hay of Edderston 4. Andrew Hay of Ranfiled.

1562. The above George Hay was superintendent of Glasgow and Aberdeen, Secretary to the Privy Council in the year 1567 and rector of Ruthven. He added the lands of Faskin and Findachy to his patrimonial inheritance. He also acquired the lands of Eddeston, which he bestowed on his brother and the lands of Ranfield, which he gave to his brother Andrew.

1567. The above George Hay married Marriot, Daughter of Henderson of Fordel.

Their children were ;

1. George who died unmarried in 16062. James Hay of Rannie and Lemplum, m, Katherine, daughter of Dunbar of Grange 

Their children were ;

1. George Hay of Rannie2. James Hay of Maldayit 3. John Hay of Langshead4. Andrew5. William6. Katherine 7. Anne

The above James Hay of Rannes succeeded to the Estate of Lenplum as is instructed by a deed recorded in the book of session 26th May 1599 but he afterwards sold his property to Sir William Hay a younger son of the family of Tweedale.

1630. In the Estate of Rannes he was succeeded by his eldest son George, who married Agnes, daughter of Guthrie, Bishop of Murray.

Their children were ;

1645. James Hay or Rannes, married, Margaret Gordon of Park and died 1666.

Their children were ;

I. James Hay of Rannes.2. Andrew Hay of Mountblairy.

1684. The above James Hay mar. Margaret Gordon of Glengerack.

Their children were :

1. Charles Hay of Rannes, b. 1688, d. 1751. (entered Marischal college, Aberdeen at 14)2 James Hay mar. Helen Lauder, Lady Banff.

In 1710, the above Charles Hay mar Helen Fraser of Inverness, the only child of Dr Andrew Fraser Inverness. Dr Andrew Fraser of Inverness' wife was Mary, third daughter of Duff of Keithmore, progenitor of the Earls of Fife.

The children of Charles Hay and Helen Fraser were :

1. Andrew Hay of Rannes, b. 1713, d. 29th August 1789.2. Alexander Hay, b 1724, died 1771.3. Mary, mar. John Leith of Leith Hall who died 1736. She married (2) James Gordon of Glastirum.4. Katherine, mar. William Gordon of Shella-green5. Clementina, mar. Patrick Duff of Whitehill.6. Elizabeth, died unmarried.7. Margaret, married Alexander Russell of Moncoffer.8. Jane, died unmarried.

 

Charles Hay's obituary in the London papers of 1751 was inscribed as follows: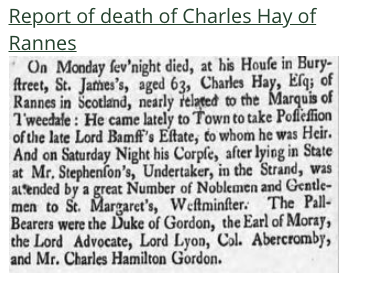 Andrew Hay died unmarried the 29th August 1789 aged 76 and his remains are deposited in this Aisle.

Mr. Hay was distinguished for those qualities which add Grace and Dignity to Human nature. Possessed of true Piety, he was an affectionate Kinsman, a steady friend, a pleasant companion, and an honest man. The urbanity of his manners and the kindness of his disposition were universally felt and acknowledged. He made use of his fortune with that happy prudence which enabled him while alive to share its enjoyment with his friends, and to leave to his successor an ample and Independent Inheritance.

Blessed are the dead which die in the Lord, from henceforth, yea, said the spirit, that they may rest from their Labours, and their works do follow them. Rev. xiv.13."

This inscription was put up after Andrew's death by the activity of William Rose (Factor to Earl of Fife), who suggested to Jean Hay that the family burial ground should be restored and the "Aisle" repaid. He had consulted Charles Hay, Lord Newton, about the matter and he at once concurred. Rose wrote for Jean's approval and directions mentioning that "about Elgin there has always been eminent architects and builders of tombs.

" Jean replied to this in rather a quint manner : "I return you my best thanks for the trouble you have been so good as take in making out the genealogy of my family, which makes me more knowing than I was, tho' God knows of little consequence, yet it's agreeable to one to know by whom they are come."

Jean agrees with Rose's suggestions as to the monument, all she begs is that it should be "substation and gentile, even tho' attended with a reasonable expense" and that Colonel Hay and Charles Hay will approve.

The date of Jean's death is not inscribed.

Andrew Hay on his return from the continent and his exile also matriculated his Arms at the Lyon Office within one year of his return.

Andrew Hay of Rannas Esqr. heir male and Representative of Edmond Hay of Linplũm, who was second son of Sir William Hay of Lochawret (Ancestor to the Marquis of Tweedale) of his marriage with Alicia Hay Daughter of Sir Thomas Hay of Errole, his second wife, Bears quarterly 1st and 4th Argent three inescutcheons Gules. 2nd and 3rd Azure (For Hay), three Cinquefoils Argent (for Fraser). In the center of the shield a Crescant for difference. Crest a Goat passant Argent arm'd and Unguled Or. Motto, Spare nought. Mat. 20 Augt. 1764.

The goat passant also a distinction from the rest of the family who typically used a goats head.

 Extracted furth of the Public Register of All Armsand Bearings in Scotland, Volume 1, folio 332,this 30th day of August 2012   (and also noted on pages 173-174 of a Jacobite Exile – Andrew Hay of Rannes)

 

Andrew Hay's Pardon for his acts during the events of 1745-46 can also still be seen at the Hall.

This was formalised in 1780 to the following effect and was greatly assisted by the efforts of the Lords Erroll, Kinnoull and Fife.

"George the Third by the Grace of God of Great Britain France and Ireland, King Defender of the Faith and so forth, to all to whom these presents shall come, greeting. Know ye that we being moved with com- passion of our special grace, certain knowledge and meer motion Have pardoned and released and by these presents for us our heirs and successors Do pardon remit and release Andrew Hay of Rannes in our County of Banff or by whatsoever other name or sirname or addition of name or sirname act place or history the said Andrew Hay may he known deemed called or named or lately was known deenmed called or named, all High Treason and all other treason, misprisions of treason felonies crimes and offences by him comitted or perpetrated, by himself alone or with any other person or persons whatsoever whomsoever or wheresoever, before the thirtieth day of August One thousand seven hundred and eighty by reason of his having been engaged in the late rebellion in the year one thousand seven hundred and forty five within or without our dominions although the said Andrew Hay be or be not indited committed ,adjudged outlawed condemned or attainted of the premises or any of them and also all and singular Indictments, Outlawries, Acquisitions, Informations, suits, plaints, exigents, Judgements, Attainders, Convictions, Imprisonments, Executions, Pains of Death and Pains Corporal whatsoever for the same premises or either of them or by reason thereof which we have had now, have or can claim or which we our heirs or successors may in any manner hereafter claim against the said Andrew Hay and so do by these presents give and grant unto him our Firm pact thereupon.-IN WITNESS whereof we have caused these our letters to be made patent Witness ourselves at Westminster the twenty third day of September in the twentieth year of our reign By Writ of Privy Seal (YORKE)."

This pardon effectively removed the atteinder on Andrew and allowed him to enjoy the rest of his days at complete liberty and master of his own estate without fear of claim at that time or in any manner by future successors or heirs of the the ruler of the time.

I note here that many persons/ families involved in the events of the time did not have such connections and good fortune to have their own pardons ratified during their life times and this has for some families remained a topic of agitation to the present day for descendants of those sentenced some 260 years ago.

Andrew's portrait survives to the present as do various other significant objects related to his life. The book on his day and correspondence by his own hand providing a window into the life of a participant of 1745-46 rebellion who also managed to later reconcile his life and adapt in the day to the changed circumstances of the times. He was also one who perhaps gifted with the foresight to see that he had lived through events in his life time that deserved mention and preservation wished to perpetuate his name. In his old age he had arranged for his family name to continue through his sister Mary's son and his nephew Col. Alexander Leith of Leith Hall who on being entailed heir to the Estate of Rannes assumed his great uncle's name and the designation Rannes. On other surviving tid bits of his later years that may serve some historical interest, I note on the birth of his grandnephew Andrew in 1784 that he also presented his newly born family member a small infant's rattle, which on a curious historical note in 1948 was intended to be presented as a gift by the last laird's mother to the present H.R.H P of Wales as a birth gift. N.B. The rattle is still in the Leith Hall collection.

Certain present day representations are also made on the Clan Hay website regarding Andrew Hay and the Leith-Hay family and these are not supported by fact.