The Leiths of Harthill – The Story of some turbulent Lairds and a Royalist Martyr – Francis Bickley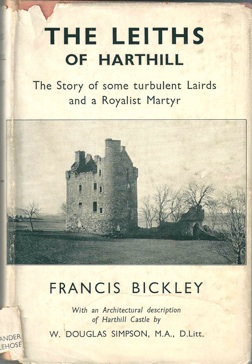 The description here comes from the dustcover of the book. The book has a very interesting account on the early Leith's descended from William de Leith of Barnis / Ruthrieston Provost / Alderman of Aberdeen. It uses various primary sources for an informative account on this cadet line and its rise and fall.
"This is the story of that branch of the Aberdeenshire family of Leith which owned the estate of Harthill in the parish of Oyne from the beginning of the sixteenth century to the end of the seventeenth. Its hero is the gallant young Patrick Leith whose loyalty to the cause of the King Charles I brought him to Convenanters' scaffold. But there is something also to be told about his remoter ancestors, and much about the feuds and misadventures of his remarkable father, who was most appropriately known as the "violent laird". This tale of public and private warfare in the the days of the "troubles" will interest a wider public than members of the family with whose fortunes it is principally concerned.