Andrew Hay of Rannas – A Jacobite Exile by Alistair and Henrietta Tayler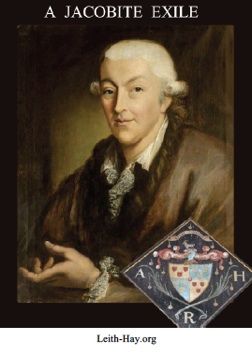 Note Alexander Norwich Tayler passed in 1937 and his sister in 1951. The 2004 Amendment in place has that any work which was published in the life-time of the author before 1 Jan 1957 is out of copyright in Australia. The Portrait is credited to NT Scotland and ultimately the family.
FOREWORD
The material from which the following story is drawn consists principally of the correspondence of Andrew Hay of Rannes down to the year 1763. This is the property of Charles Leith-Hay of Leith Hall, Aberdeenshire, who kindly gave permission for it's publication. His Majesty has also graciously allowed certain extracts from the Stuart papers at Windsor to be included. All letters subsequent to 1763, with the exception of one (on page 204) from the Duff House papers, are in the possession of the Editors.
They have to thank the Publisher (Heinemann and Co.) for allowing them to reprint passages from their book Lord Fife and his Factor.
Alistair and Henrietta Tayler worked as a team to record the history and activities of the Jacobites in Scotland during the 18th century, and their work, noted in the first half of the 20th century and later for its quality, has remained an invaluable source of historical information on some of the most important figures in Scottish history. This history concentrates upon the life and activities of Andrew Hay of Rannes down to the year 1763. Hay was a native of Rathven parish in Banffshire; he was 32 when the last major attempt to restore the exiled Stuarts to the thrones of Scotland and England began in 1745. His father had been a Jacobite allied to the Gordons, and his son took up that same cause. Over 7 feet tall, he was an imposing figure. He followed Prince Charles until his departure to the continent and he soon followed, spending some 17 years in exile before returning in 1763 to Scotland. His writings give much insight into Jacobite activities after Culloden, for in his letters home to his mother he tells of the diminishing court of the Jacobite kings, life abroad in exile, and his longing to return home. This work is of equal interest to students of both the Jacobite movement and the Hay family.
Ebook version with additions is accessible below.
Press click to read below. Use your arrow keys to scroll back or forward on a desktop computer. Swipe with a phone or tablet.