Leith Hall National Trust for Scotland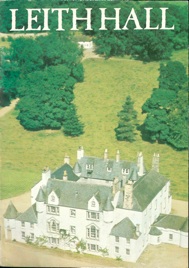 The National Trust Leith Hall pamphlet was printed in 1960. It provides a brief overview of the history of the Hall and the family.
The 1973 Leith Hall booklet provides a detailed overview and is informative with images and describes the history and development of the Hall as well as detailing the collection. A detailed history on the Leith family is also given and it is well researched.
The 1980's version published to 1991 is a shorter version of  the earlier book. It provides a more colourful read and has many images on the family members and different additions to the Hall under the Leiths as well as the people who worked at the Hall. The different stages of development of the Hall throughout the four centuries it was owned by the family are also shown.
---