John Leith IV of Leith Hall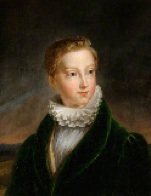 On what John looked like in terms of appearance is also a question. His portrait at the Hall is a posthumous one and reportedly painted in 1833 according to the present day literature. It shows the image of a thin young man, still a boy in his teenage years. The family book and tradition attributes the painting to him. On page fifty seven of the book, correspondence provides that John stayed in France for another year after his brother Sandie (Alexander) who returned to Scotland in June 1770 to further his education. It narrates a family tradition of him having been a page at the French Court during his time in Paris under the supervision of his tutor. The painting shows a young man in a page's costume of blue and white, with a ruff round his neck. During this time in France he would have been thirteen to fourteen years before he returned home in May 1771.
The painting would fit this age group. It is also noted his brother spent considerable time with him and their mother Harriot away from the Hall and Scotland on repeated trips to France which is detailed in the particulars of her correspondence between July 1767 to 1770. These family letter's in the modern narrative provide and insight the daily routines and happenings of her son's education as well as the close friendship John had with his younger brother Sandie born only one year after him. It would not be surprising if Alexander in his later life were to have commissioned a portrait of his brother in the image he remembered some 50 years prior. After all his brother had been the Laird, and it would only have been fitting to include his portrait amongst all the others in the family.
Pages forty-eight to sixty-three of Trustie to the End detail contents of the family letters and even relate some of John's own writing in French. Much of course as mentioned before is focused on the children's education by Harriot, the details of different tutor's, schools and costs as well as her sale of her own inheritance of Auchluncart for 11.300 pounds to secure her younger sons education. However, John's precarious health is also the constant focus of her concerns. Costs of medicines and doctor's treatments as well as the need for a milder climate highlight her concerns during the period from the mid 1760's to 1780 when the matter's of the estate were primarily in her care via the Trustee's of her sons. For some 20 years after her husband's death it is fact Harriot who is the major influence on her son's and by all accounts made it her life's work to see that they received an excellent education, which obviously served them well during their latter lives.
John Leith IV became the Laird on his father's untimely demise in Aberdeen at only a young age. His own life was also afflicted by illness and due to this, little material is available on him compared to the other later Leith Hall Lairds. In fact were it not for his mother's varied correspondence at the time, which provides the basis for the mid 20th Century account of his life, he may have been completely forgotten. As the eldest child of John Leith III and Harriot Steuart of Auchluncart, he was born in 1757 and passed away 7th October 1776 reportedly at Cambridge Heath Hackney, aged nineteen on a visit to the south with his brother and mother due to his precarious health. Much of what survives on him is related in the family book Trustie to th End written by Marion Lochead and H Leith Hay based on the letters of the family  between his mother Harriot and Andrew Hay.
John appears to have also to began to manage his own affairs and the duties of a Laird and patron as the account relates his increase of property on the death of his great-uncle George Leith of Blackhall who left him his estate, which was used to buy the village of Insch. His correspondence with Andrew Hay also mentioned his patronage of his former tutor Mr Donaldson from France. On John's personal attributes, he is referred to as unusually intelligent and studious due to to his physical delicacy.
His health and physical frailty is also what obviously tragically proved his undoing. His mother's letters had described his seizures with a spitting of blood in the late 1760's before her attempts to move him to warmer climes to aid his recovery and build his strength. In the family's account, her letters from 1776 are full of distress to the family physician Dr Skene and his recommendation of travel to the south again was to prove John's last. He passed away on this last attempt to gain health and this is described in the family book as well as a reference to a mournful tribute in the Aberdeen Journal of 21st October 1776 of a young man who perished before his time.
(Portrait  – National Trust Scotland)