Florence Augusta Leith Hay and Archibald Blair Gibson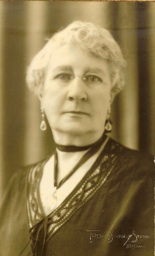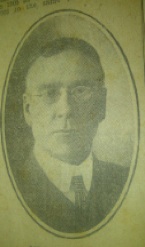 Florence Augusta Leith-Hay was born in Ipswich Queensland on the 2nd of June 1863 as the 6th child of James Leith Hay and his wife Maria Catherine Leith Hay (nee Gray). Her childhood and first 18 years of her life were spent in Australia and primarily at Ipswich in South East Queensland at the family's residences at either Gray or Ellenborough Street Ipswich and also the household of her grandfather Col Charles George Gray, the then Ipswich Police Magistrate. After a brief 6 year period in the United Kingdom from 1881, Florence returned to Australia in 1887 with her elder sister. Following her own marriage in 1890 she devoted her time to her family and children while following her husband's successful career in the public service throughout much of Queensland from Charter's Towers in the north, to Blackall and Roma in central Queensland as well as many of the major centres of the state during a long and accomplished career. It is also notable that through her own knowledge many of the pieces of information that remained in Australia from prior to the 1950's are passed from her to future generations. Significantly, for the family her descendants also live in Australia in South East Queensland and NSW today linking to the past in Scotland as well as the family's arrival here in the 1840's into what was then still colonial NSW.
On her early childhood in Queensland little is on hand to describe household events from her own hand. As two of her elder siblings passed soon after their birth at Denham Street in Rockhampton, Queensland, during the family's brief stay there, Florence became the 4th and middle child in the growing family and also the elder sister to her younger siblings Gertrude, George Leslie and Louisa. On her early life in Queensland local notices give few recorded details and it may be that first mention of her appears as that of a bridesmaid dressed in white and pink at her elder sister Norma's wedding in November 1878 at St Paul's in Ipswich, where as a 15 year old she was one of the principal Bridesmaid's and also a signing witness to her sister's marriage as recorded on the wedding certificate at the time.
With the Leith Hay family's departure from Australia during the early 1880's, Florence remained in Queensland for a further year with her younger siblings after the departure of her elder brother Charles and sister Mary Hirst via Melbourne (Hobson's Bay) to the United Kingdom on the 23rd March 1880 on the Somersetshire s.s 2342 tons. Her elder brother and sister had departed Rockhampton previous to this on the 14th March 1880 aboard the Kellawarra 784 tons to Sydney via ports. With the departure of the senior members of the family, Florence's and the younger siblings life during this time may have continued in the household of her elder sister Norma and her family at the Hollow, near Beaudesert.
What is, however, clearly recorded at that time is her departure from Australia. On April 26th 1881, the Queenslander paper reporting outbound shipping records has the Merkara B.I.S.N Company's 1950 tons, Captained by J. Ballantyne departing Brisbane to London via the Queensland northern ports Rockhampton, Townsville and Cooktown and then Batavia, Suez Canal and Naples, with Miss Florence Hay, Gertrude Hay, Louisa Hay and George Leith Hay continuing their journey to their final destination, London. No doubt being eighteen, and the elder of the siblings this long journey would have meant that her brother and sisters would have been under her care for the journey despite her own young age. The stops at the various ports of call also giving, the younger members of the family a glimpse of the wider world.
It is not clear under whose care the family members would have been once they reached London. No doubt they would have received the support of their uncle Alexander Sebastian, the head of the Leith family. Their father James Leith Hay at this time still being the heir to his childless older brother may have afforded some support since Florence's brother Charles was also to become the heir presumptive to the Lairdship of Leith Hall and Rannes. The family kept a home in London and it is likely that this was a residence as well as time being spent in Scotland at the Hall since Florence lived in the United Kingdom from her arrival there in 1881 for 6 years to 1887, at which time she returned to Australia with her elder sister Norma and her 2 niece's and nephews as well as her brother-in-law Henry.
The R.M.S Ormuz 6116 tons has her return via London, Plymouth, Naples, Port Said, Suez, Adelaide and Melbourne arriving on the 20th July 1887. And her final journey to Brisbane continued on the Katoomba A.U.S.N Company's 1100 ship on the 25th July 1887 where she accompanies her sister's family on their return to Queensland. On her reasons, for returning to Australia with her sister not much is known. Obviously she may have been very close to her elder sister Norma as indicated by her being the signatory at the wedding rather than her older siblings. The decision to return to Australia would have, however, been one of great magnitude since she would be leaving behind her other elder sister, Mary, elder brother Charles as well as her two younger sisters and brother for a considerable time and possibly with the after thought that she might not see them again due to the distance. The trip from London being  close to a 2 month journey if not longer at the time. What would be certain is that her decision to return to Queensland would have been on her own accord as she was 24 years old at the time. Perhaps her birth and roots being in Queensland and earlier life here provided the impetus for her to return. On her return voyage she would have also been a great help to her sister Norma, who by the time of their departure from London in late April was expecting her 5th child, which on a sea journey would have proved a difficult experience. It is not know if Florence resided with the Phipps family at Sandgate after her return.
The Queenslander newspaper on Saturday 30th August 1890 provides the next important snippet on her life. The marriages section outlining on the 20th August, at St John's Church, Cairns, by the Rev. Oscar Hill. Archibald Blair, younger son of James Gibson, Bank of NSW, Ipswich, to Florence Augusta, third daughter of the late James Leith-Hay, Ipswich QLD. The Gibson's being a pioneering Ipswich family as well, with Archibald's father being born in Edinburgh Scotland in 1825 and leaving for the colonies in 1856 and spending almost 30 years as the Bank of NSW Manager of Ipswich. As Florence was born in Ipswich and the families being of Scottish descent it is certain Florence would have known her future husband from her own childhood in Ipswich. Notably Florence's older brother Charles being a student at the same time at the Ipswich Grammar School as her future husband's brother Dr J. Lockhart Gibson M.D, a physician of particular note.
Florence's family life followed first in Charters Towers in northern Queensland. The first addition to her family being Violet Norma Gibson born in 1891 and bearing her aunt Norma's name in the middle and keeping the family tradition of a name that had been passed in the family for centuries at least in the male form. A sister, also named after her mother was born two years later in 1893 and named Florence Leith Hay Gibson, keeping the family name in the middle. Marjorie Fleming Blair Gibson followed in 1895 and finally a son Archibald Erroll Leith Hay Gibson in 1902. Of her movements in Queensland during this time social columns detail her visits to her parents-in-laws residing at Manly on Moreton Bay, to her brother-in-law's family or her sister Norma in Beaudesert.
A Brisbane Courier article detailing the career of her husband on Fri 28th June 1928 upon his retirement from the public service perhaps best describes the family's movements in Queensland. In the Personal's Section on page 17 the following tribute details an accomplished career.
"Mr Archibald Blair Gibson, who has been one of the most popular police magistrates of the Roma district, will retire from the Public Service on June 30. Mr. Gibson joined the service in 1888, and his first appointment was as a junior clerk in the C.P.S. Office at Croydon, where he remained for about two and half years. He was transferred to Charters Towers in 1890 as Registrar of Births, Deaths and Marriages and as Land Agent. In 1894 he was transferred to the Registrar General's Department Brisbane and in 1896 was appointed C.P.S. at Nanango, QLD. Two years later he was promoted to Mackay as C.P.S. and Land Agent, in 1905 as C.P.S. at Maryborough, in 1908 to the same position at Toowoomba, and in 1909 as C.P.S. at Brisbane. In 1910 her received the appointment of Police Magistrate at Blackall, in 1914 he was appointed to Cairns, in 1916 to the Nanango-Kingaroy district, and in 1924 to Roma.
As a citizen Mr. Gibson interested himself himself in all public affairs tending to the welfare of the districts in which he carried out his official duties, as also did his wife, and both can claim a wide circle of friends throughout the State. During the past few weeks Mr and Mrs Gibson have been farewelled at a round of social functions in the Roma district and regret has been expressed at their coming departure. In future they will reside at Ashgrove Brisbane."
Mr Gibson's obituary was reported on Wednesday 18th Sep 1935 in the Courier Mail highlighting his long career of 40 years and four children as well as his wife, Florence who survived him by close to 20 years. Florence Augusta Gibson passed in 1954 and was the longest surviving child of James Leith Hay and Maria Catherine Gray. Her own passing occurring almost exactly 100 years after her parents wedding in early colonial Ipswich in 1854 in the century before.