James Leith-Hay and Maria Catherine Gray
October 6, 2014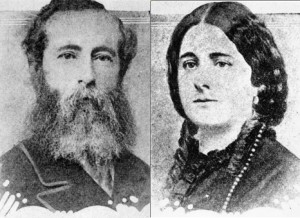 James Leith-Hay led an interesting life in his day. He  travelled further with his brothers in his day than any of his forebears on a global scale. From Aberdeenshire to the Darling Downs in Australia and later into the unknown into what was to become central Queensland and the locale, still holding the name of Rannes at the confluence of the sentimentally named Don and the Dee, which the brothers James, Norman and Charles named their outpost on the tropic of Capricorn.  Being Sir Andrew's third son, James was never likely destined to follow his father or his elder brothers Alexander Sebastian and William, yet this is what happened in the day through his son. Out of all the sons of Sir Andrew, in hindsight it could perhaps also be said that James' pursuits most closely mirrored his father. On what is left of historical record, it is James' life that also holds the most information, as his older brother, who despite having a solid military career did not go on to develop much of public life instead preferring his life at the Hall and its estates and local matters upon his military retirement. James' career in Australia was not also one that was particularly of a distinguished note or covered in any particular merit. From early pastoral beginnings on the Downs to acting as a J.P and Police Magistrate, his life here had its ups and downs. His professional life followed the normal career of a junior colonial public servant, which progressed in a similar manner to many of his contemporaries from the old country who came from a similar social position as he did.
James held a number of junior to middle ranking positions during his time in the colonial public service of the time. His final Police Magistracy at Miles on the Condamine perhaps also ending in a slightly celebratory note of perhaps too many bottles of Champagne being opened during the end of his tenure towards 1879 when his services were no longer renewed. Perhaps this also gave a hint of his next destination in life. After Australia James returned to Europe and the continent and it was not the United Kingdom that he would call home for the remainder of his days, but rather the shores south of the channel where his final resting place was to be.
The Archive for St Servans at Ville de Saint Malo offers the following for his passing;
Acte de deces James Leith-Hay 2/4/1887 a St Servan.
San mil huit cent quatre. vingt -sept, 
le trois avril, a'dix heures et trois quarts du matin pardevans nous, Celestin Flaure adjoint remplissant par delegation les foncions d'officier de l'Estat civil de Saint-Servan chef lieu de canton au deepartement d Ille a Vilaine, ont comparu Messieurs Frank Behrens, age 'de vingt-septans, rentier et George Ashdown, age 'de soixante – troisans, Medicin, domiciles a Saint-Servan, voisins du défunt ci après nomme; lesquels nous ont declare vue Monsier James Leith-Hay, rentier, ne a Aberdeen Ecosse le vingtsie novembre mil huit cent vingt, vues de Dame Maria Catherine Gray, fils e sue Monsier Sir Andrew Leith-Hay K.H et de jeu Dame Marie Margaret Clarke, son espouse est decede en son domicile situe Rue de Lefer, cet jour, a cinquante minutes du soir ainsigue nous nous ensom mes assure; Etonitles declarants signe avec nous le present acte après lecture.
Signed: George Ashdown    Frank Behrens
On the 3rd April 1887 at 10.45 am in the presence of Celestin Flaure Deputy of the State Registrar of St Servans in the department of Ille a Vilaine ; Messers Frank Behrens age 27 a property owner and George Ashdown; 63 ; a Doctor from St Servans and neighbours of the deceased accordingly declared that Mr James Leith Hay property owner born in Aberdeen,Scotland on 8 November 1820 ; widower of Mrs Maria Catherine Gray and son of Sir Andrew Leith Hay and Mrs Marie Margret Clarke his wife ; has died at his home in the Rue Lefer at 5 .15 in the evening ( 2 April ) as testified and declared before us after reading the present Act .
The Aberdeen Evening Press relayed his passing on the 7th April 1887 in the Obituaries section and a further short note on his life is given as the Death of Mr James Leith Hay.  – Our obituary today contains an announcement which will be read by many with feelings of deep regret. It is that of the death of Mr James Leith Hay of Rannes, Aberdeenshire. The sad event occurred on the 2nd inst. at St Servans France, Many years ago Mr Hay left this country for Australia where he carried on a very successful business as a sheep farmer. He was well known in the colony and highly esteemed by those who had the pleasure of his acquaintance. He married a daughter of Colonel Gray, Australia, who predeceased him several years ago. About two years ago removed to France with his young family, but his health had begun to fail, and he passed away as already stated on the 2nd inst.
As this site is intended as a family record, I though a rehabilitation of James' place in the family was due when some two years ago some form of attempt was made to begin this project. At times his older brother has been taken to be the father of Charles Edward Norman L-H and this I guess was an easy conclusion to draw if one were to only look at the displayed family portraits of the time.
James' history is quite fascinating , and as per his father, his flaws and the critique he received during his public career allow for an in depth study of his persona at that time of his life. In other aspects he comes across as a deeply devoted family man who was also impacted of course greatly by the early loss of his wife.
For family and Queensland history James' early commercial interests with his siblings William, Charles and Norman during the mid 1840's to the late 1850's  in what was to become Queensland, however, are some of the highlights. The early images of the Leith-Hay brothers cattle droving as per Fairholme's early sketches of the time showing the life here at that time.
As per the earlier section written on his life James co-owned Toolburra Station with his brother William and George Erskine Knight Fairholme. Later accounts of James in the local press highlight the development of his career. James was appointed a Justice of Peace in 1846 on the Downs and besides his pastoral enterprises he was later appointed to several Public Service roles in the emerging colony of Queensland. These included Gold Commissioner at Rockhampton, and later Police Magistrate at Bowen and Commissioner of Crown lands, both positions in which his tenure was not renewed. James' career and reputation was somewhat negatively affected by the misfortune falling on his brother Norman and also his own actions. His commercial failure and insolvency in the 1860's of his later stock and station business and also a pugilistic encounter or fist fight on the streets of Ipswich in Queensland towards the end of the 1860's ended his public service career for a number of years. A fisty cuffs, however, at the time may not have been so adversely in his day in a frontier type environment of the emerging colony. James' close friend, George Leslie of Warthill was also known to not being adverse to entering punch ups on the Downs and also had a history of 7 commercial bankruptcies  from which he was bailed out by his brothers and also resulted in the sale of Canning Downs Station and other Leslie lands on the downs on commercially very favourable terms to the Leslies during the boom time and attested by their own diaries and letters now held at University of NSW.
James before his passing also managed to place his children on a position to continue their lives. All of the seem to have been present in France at some point close to his passing. In Ipswich James was also relatively well regarded and his position as the Vice President of the local Caledonian Association and Master of Ceremonies at local events organised by the association such as their Highland games of the time perhaps point to the high regard he felt about his heritage.
I have added the following extracts from the QLD State Archives which offer glimpses into his life here at the time at different points.
The first from the Darling Downs and co-signed by the Leslies regarding a letter to the Colonial Secretary re gold prospecting.
The second offers an insight during the  brothers short tenure at Gigoomgan before their migration further north and this is regarding an economic activity they may have had in mind – the importation of continental wine growers.
The third offer insight into James acting as a J.P. at the time and again in the form of a letter to the Colonial Secretary regarding a perceived obstruction to his duty by a third party.
(sections to come in the next days)
James Alexander Leith-Hay and Maria Catherine Leith Hay (nee Gray)  – family history
Born on 26 November 1820 in Aberdeen, Scotland as per his NSW marriage certificate (and reported in the Scots Magazine on Jan 1 1821) and married in 1854 to Maria Catherine Gray (b. Musselburgh, Scotland) daughter of Lt Colonel Charles George Gray, at Ipswich in the Colony of NSW. d. April 1887, St. Servian, St Malo, France. James was the first of the Leith Hay brothers to arrive in Australia with his elder brother William on the 5th of November 1844 at Sydney aboard the barque Parrock Hall from London, 425 tons (p.2 Sydney Morning Herald Wed 6 Nov 1844) , and was a Justice of Peace in the Darling Downs area at the time and a pioneering squatter in the Darling Downs as well as early Queensland before its separation from NSW.
James was at different times a pastoralist and public servant throughout his time in Australia. His pastoral attempts included managing Toolburra, which he owned with his brother and George Erskine Knight Fairholme and was bought in 1845. Canning Downs was also a property he worked on under his brother WIlliam who at one time managed it for their close friends the Leslies towards the end of his stay in 1852-53. After the sale of Toolburra to the Leslies, in 1852 the brothers attempted grazing sheep in the Wide Bay area with properties and soon afterwards moved north to the Dawson Valley and new uncharted territory at the time where they settled at the place they named Rannes. Varied correspondence survives of the Leith Hay brother's early time here, including letters to the Colonial Secretary from the early 1850's. James was also on the Separation Committee as described in the Moreton Bay Courier of Saturday 26 January 1856. The same paper also narrating the Messers. Leith Hay being able to ship their wool in that year from the Fitz Roy River, with James, having through his performance of his arduous and dangerous duties discovered a road which will bring the Rannes Station within 50 miles of water carriage.
After 1857 and the loss of his brother at sea on the Sea Belle, James became more a public servant and had various roles such as a J.P or Police Magistrate Brisbane in 1856-1857 and later Sub-Commissioner of Gold Fields and Crown Lands at Rockhampton (20th Oct 1858 Govt Gazette) and Commissioner of the Peace Rockhampton (Govt Gazette 13 Jul 1860 and again 14th Feb 1861 as well as First Returning Officer for Rockhampton Tue 5th Jan 1861), Bowen of which he was also Police Magistrate. He also, on his return to Ipswich around 1863, became Captain of the Queensland Mounted Rifles (Ipswich Troop of Mounted Rifles) or Light Horse in Ipswich between 1864 and and 1866 and acted as a Justice of Peace under his father-in-law Col onel Gray. Also, later in 1874, he was appointed Police Magistrate (PM) Condamine and Commisioner of Crown Lands, which appears to be his second last position in Australia as he served as PM for Miles in QLD in 1878, which was on the rail route to Roma. By this time he was in his late 50's.
On Maria's life, little is left on record besides the numerous birth announcements on her family from Brisbane, Ipswich and Rockhampton. A small section her life details some of her childhood at Port Macquarie. Her Ipswich marriage on the 19th September obviously first showing her link to the Leith Hay family, with the description as follows in local papers. The Empire Sydney Tuesday 3 October detailing the Moreton Bay marriage, by the Reverend H.O Irwin, of Brisbane, to James Leith Hay Esq., third son of Col Sir Andrew Leith Hay K.H., F.R.S.L. and E., of Rannes and Leith Hall, Aberdeenshire, to Maria Catherine, youngest daughter of Colonel Gray, late Rifle Brigade, Huntingdon. Port Macquarie, NSW. Of Maria's youth only fragments remain. At a very young age, she migrated to the colony of NSW and eventually settled with her family at Port Macquarie. In the account of her father's life, a short section details Maria, proudly displaying her father's signet ring and through the Gray family tradition this was a heirloom of some significance. Maria is significant for the family though for being the first ancestor in Australia with her father.
Maria would also have spent a relatively short time at Rannes. She only departed Brisbane in August 1856 and as her 2nd daughter Norma was born in April 1857 at Charlotte Street Brisbane, she would have spent less than a year there, which was of course was abandoned after Norman's passing and had become a failure commercially on account of the tragedy and cargo being lost. The eye witness letter linked below in the text during the early 20th century perhaps affords some insight into her character. For the most part she would have lived at Ellenborough Street Ipswich with her growing family. Her local popularity in Ipswich also highlighted by the pulpit to her memory gifted by her friends at her untimely death in 1875. The words on her marker stone perhaps also implying that her life in those pioneering days had not been an easy one.
As the third son of Sir Andrew Leith Hay, James receives little mention in the family book 'Trustie to the End' and this may be because his career that at times provides a record, that was not always perfect in much the same way to his father Sir Andrew, who experienced various difficulties post 1838. Early colonial Australia was a harsh clime for settlers and just like their close friends, the Leslies from Warthill, the Leith Hay brother's experience in Australia was not an easy one. It was without a doubt a land of opportunity, yet of course came with its own risks. James, was, however, the father and grandfather to the last two Lairds of Leith Hall and also the remainder of the main line of the Leith Hays and their descendants and his time in Australia was in no way unremarkable. His almost 40 years in Australia  and the birth of the whole next Generation of the Leith-Hay family in Queensland provides a colourful story in colonial NSW and early Queensland much in the same way as many of his Leith ancestors lives. Much of James' writings from the early days are still intact and accessible giving an insight into his character. In hindsight a person of conflicting record. A product of the educational system of the times where younger son's of landed gentry often received a good education, which was to then assist them in making their own fortune and riches as they were not to succeed to their father's estate in usual circumstances.
Both James and his wife Maria are considered early Queensland pioneers and the Leith-Hay brothers as well as Maria's later move to the Dawson Valley and the establishment of one of the northernmost settlements by European's at the time in Australia in the early to mid 1850's was a significant feat and showed courage and determination.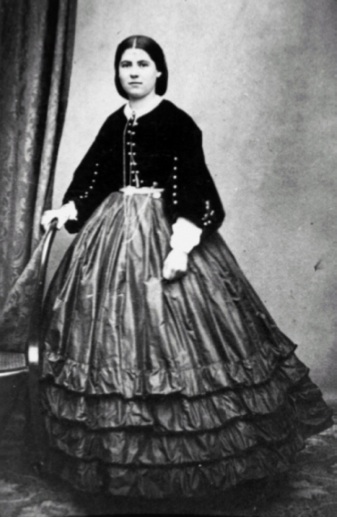 For Maria the travel to the Dawson would have been particularly arduous. The Moreton Bay Courier 16 Aug 1856 reporting her and James' trip to Port Curtis, departing Aug 9 on the Sable Chief, Schooner, 120 tons with a child. As described in the the letter on the life at Rannes the remainder of the journey from Port Curtis was accomplished by ox cart and horse through difficult terrain. Maria's claim to fame being the first European female to venture so far north at the time.
(A copy of this image is at the QLD State Library)
Not only was the natural environment was full of hardship, the indigenous Australian's whose traditional lands were being encroached upon also reacted in an understandably hostile manner to new settlement. The loopholed image of the Rannes hut which served some kind of defensive purpose perhaps shows the fears of the brother's. While a Lieutenant H Walker was visiting the homestead in the mid 1850's, his camp of native police, who were encamped on the other side of the creek were attacked resulting in the death of one trooper and the wounding of several others. Notably the historical literature from the past would have referred to this kind of an atrocity as the fault of the aborigines. However, modern studies have corrected this and shown the controversial nature in which this Native force was used to dispossess aborigines of their lands by the Colonial power.
A true figure should perhaps have been given for the number of aboriginal victims of that event. It nonetheless shows a depiction of the times and what effect white settlement was having in the 1850's on the native populace. The brutal end to the youngest brother, Norman Leith-Hay on surviving the wreck of the Sea Belle (Norman_L-H) further highlights the tragedy of the times. Surviving a ship wreck and then rescuing those aboard only to be murdered by the traditional people of the land who were themselves being destroyed by white settlement demonstrates the risks taken by early settlers as well as the attitudes and struggle of the traditional custodians of the land whose way of life was quickly being wiped out. Norman's death also altered the course of the brothers plans in Australia and it's impact would stay with the family far into the future, with William and Charles returning to the UK by 1858. William noticeably before this date as he had started a family in 1856 in Scotland. A letter (Letters_L-H) by a Rannes survivor to James's daughter Florence best describes the trials and tribulations of the Leith Hay's early days in Australia.
James' start to a career as Police Magistrate at Bowen and Assistant Commissioner for Crown Lands in the early 1860's also ran into trouble, and this was partly his own fault or simply that he was raised in a privileged background and received the image of connections man in a society that was quickly developing a sense of egalitarianism despite it's colonial ties. In these positions he had previously tendered for runs and transferred his interest to an associate, in effect accused of having a conflict of interest in his position as P.M and Assistant Commissioner. This caused his resignation from the above mentioned positions by 1862, or more so his position for P.M was not renewed.
His conduct as Police Magistrate at Bowen also received criticism, and although he did not break any law, his conduct might have been interpreted as rather harsh as per the case of Mr Keith, whose cargo of merchandise including prohibited spirits had been seized at Port Denilson and auctioned off. Here he was attacked in the local Rockhampton paper, to the extent where he was forced to defend himself through legal action (Hay vs Buzacott). The accusations against him do seem personal, and his character was questioned and it is not disclosed what interest the proprietor of the paper had in the the  affair. The end result though was James and his family's return to Ipswich by 1863 with James being appointed Captain of Ipswich mounted Rifles and various events describing his tenure in this position such as the North Australian June 16 1864 page 9 reporting on the Queen's Birthday festivities at the time.
As a note on James' tender for Crown Lands, the runs in question, where he was accused of a conflict of interest were tendered by him in 1858, while he was not an assistant Crown Lands commissioner and QLD was still a part of NSW. The tenders were accepted only in 1860 after separation and after this time around 1861 James transferred them to Macdonald Bell and Co, which held and paid for the leases and then had them removed by the Government in 1866 resulting in the Supreme Court Case McDonald vs Tully, which was eventually settled in favour of McDonald as the leases were legally tendered for by James L-H and prior to partition and then wrongly taken from the plaintiff and granted to others by the Government.  It would appear though that James did use his position to advantage and the stain on his career was in effect the notion that he had trafficked in runs and used his position for gain. Not illegal under the old legislation, yet not entirely  in the code required for a public official. During 1865, James was also confirmed the heir to his brother Alexander Sebastian, who was at this time childless and 46 years old and the Laird at Leith Hall.
The effect on James' career as a public servant of the events at Bowen proved detrimental and the return to Ipswich also brought about further events which could be considered scandals or misfortunes. By 1866 his joint business venture named Foxton, Leith Hay and Co had run in to trouble in its business as stock and station Agent. James was declared insolvent by his own petition in this year. The strain of the misfortune effecting him is evident when he was charged and fined for 5 pounds for provocation in Tozer vs Leith Hay where pugalistic encounter had taken place between the two in Sep 1866 and  attracted the attention of the local community and a note in the press. Considering James' position in Ipswich, his reputation was severely affected and took some time to recover. Rather as a negative mark on his career, this was not unusual for colonial times in a frontier environment. The link to a pugalistic encounter echo's to the days of the earlier Leith's and their quarrels with their neighbours, which was often the every day life of generations past in Aberdeenshire and part of the parcel amongst the landed gentry.What ever the case, in 1867 he was removed from the list of Justices of the Peace, which he had been for 21 years since his arrival in Australia. For the next years, the record of James is quiet besides the additions to his and Maria's family, which expanded to 7 children. (note  there were 10 children of whom three died in childhood) James also travelled to Scotland on his own from Australia around 1870 when and Maria handled family matters.
The next news of mention about James comes in the early 1870's as Vice President of the Ipswich and Moreton Caledonian Association where as Master of ceremonies he presided over a supper and ball with entertainment and the society's own piper. The society also held games in much the fashion of the Highland games with attendances of 2000 reported in 1873 with dancing and piping as entertainment. James' career as a public servant also resumed, and although in the relative backwater of Condamine at the time. The Queenslander paper describing his departure further west at the time and being a loss for the Caledonian citizens of the town due to his work for their benefit. A travelling journalist in 1875 described it as a town of somewhat limited prospects due to the railway most likely being constructed elsewhere and the buildings neither remarkable of comfortable and with an after thought of a good fire giving the place a salutary effect. In March of that year James is launching a boat as P.M for the purposes of crossing the Condamine and carrying mail and passengers and essential benefit during times of flood. It was named Norma after his 2nd daughter.
In 1878 James later became P.M at Miles further north. After his daughter Norma's marriage in November 1878, little further of note is mentioned about James in QLD. A Darling Downs Gazette and General Advertiser article on Dec 11 1878 has him giving a send off speech for a Mr Highfields, the local Cobb & Co agent, at the Sands Hotel in Miles with a night of singing songs and toasting to day light. The May 1879 papers (Evening New Sydney 14th April) briefly report his services ending in that month.  All his children bar Norma depart for the UK in 1881 and James himself reportedly passed away in St Servian France in 1887. Maria passed away in Ipswich in June 1875, while taking care of her children or her eldest daughter suffering from measles during pregnancy. She is buried at Ipswich Queensland in the town's cemetery in the pioneer section near her father. A pulpit was given by her friends to her memory at St Paul's Church at Ipswich .(see images) Of James and Maria's 7 surviving children two daughters returned to Australia together in 1887 and it is Norma's and Florence's descendants who today live mostly in Australia.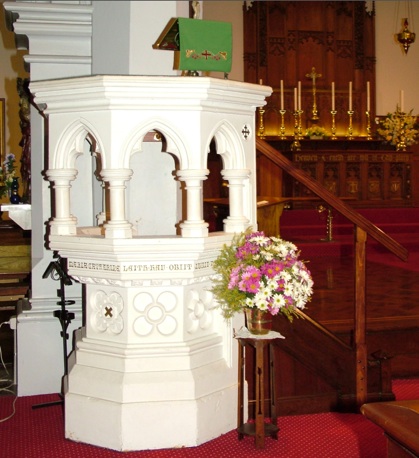 The pulpit in St Paul's in honour of Maria was given to the church in 1875-76. It has several heraldic symbols on it associated with the family. The 4 cross crosslets as well as the central section bearing identical markers to the Chantry stone in St Nicholas Kirk in Aberdeen. A saltire in the middle section or St Andrew's cross most likely links to her Scottish birth.  (Photo courtesy of St Paul's Church – Alan Harbour and Margaret Cameron) The link to St Pauls church is also relevant to this family's history. Colonel Alexander Leith had married at St Paul's chapel in Aberdeen and this was also the location of Andrew Leith (later Leith-Hay's baptism) and most likely his 3rd son James Leith-Hay's baptism in 1821. James' older daughter Norma was married at St Paul's Ipswich which also became the place of baptism for her grandchildren from her surviving son.
A little further information on Maria can be obtained from the book That Gallant Gentleman – on Charles George Gray, her father. The book is informative on him, but the details on Maria and her family are largely missing as is the information on her descendants which is incorrect.
(Copyright Leith-Hay.org)