Ebook – A Jacobite Exile -Andrew Hay of Rannas by Alistair and Henrietta Tayler published 1937 – portrait held by National Trust for Scotland
March 10, 2013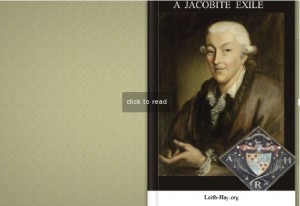 Two versions are being placed for viewing of the 1937 book.
– Original scan of the 1937 book published 76 years ago.
-Ebook and and pdf versions with additional information
Note the cover portrait is held by the National Trust for Scotland as per the original contents gifted to the NT as part of the Leith Hall collection.
The Coat of Arms images have also been credited.
The credit for the work goes to Andrew Hay of Rannas and his mother Helen Fraser for their correspondence. Alistair and Henrietta Tayler on their work as well as CEN Leith Hay for access to the papers of Andrew Hay of Rannas held at the Hall when the book was published in the 1930's.
The Ebook version is accessible at
Andrew Hay of Rannas – A Jacobite Exile by Alistair and Henrietta Tayler