The Castellated Architecture of Aberdeenshire – 1849 version digitised
April 6, 2013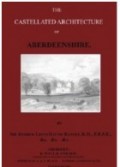 Ebook accessible and downloadable at Castellated Architecture
This ebook is a copy of the 1849 original. The late 1800's and modern version is of course based on this book. This is possibly one book not digitised by Google so far and perhaps due it being published in no large volume in terms of the original work. The images are, however, the highlight of the book and meticulously done giving a glimpse into the mid 1800's and what these old houses looked like then.
The quality of the pages on the scan may vary and due to the large size of the pages there were some cropping issues. The quality should, however, be readable. The credit goes to Andrew Leith Hay and his work during his latter years including his lithographs. Also a thank you to the person/s who tucked this away for 160 years and counting and managed to keep it in good condition.
This one is long out of copyright. The publishers are noted on the cover. Some of them still existing today. The front cover has been made today and shows Andrew own portrait of his family home on the front.