The Leiths of Harthill – thanks to Francis Bickley in the 1930's
April 10, 2013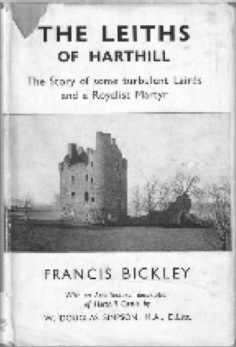 Info  at Leith's of Harthill   (Note Pending copyright issues) It's an old book some 76 years in age and its author lived very long as well, meaning 70 years past his death will take quite a few years.
This ebook is a copy of the 1937 original.
Thanks to Francis Bickley this book was published a long time ago.
It's a great piece of work on this forgotten family and particularly the colourful Harthill branch with it's history of quarrels and a somewhat gruesome end to the family all detailed in the book.  The title says it all. A history of some turbulent Lairds and a Royalist Martyr.
The nicely restored castle is viewable at http://www.harthillcastle.com/
Note on copyright Francis  Bickley lived to the 1970's and this book is under copyright and permission is being sought before any publication. A second Edition appears to have surfaced in the 1970's in the USA some 40 years after the first edition.
As the A Jacobite Exile was published in the same year and it's authors passed prior to the mid 1950's, 50 years from the author's death would be applicable on volumes were the author passed before the mid 1950's in Australia. This would not be the case for the Harthill Leith's.